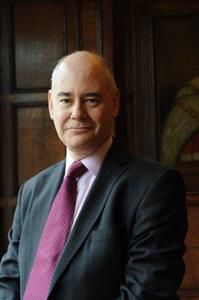 Ian Garwood is responsible for the Inn's Estate and portfolio of historic properties, covering all aspects from asset management, building repair, major refurbishment projects and property acquisitions to tenant management. Through a joint arrangement with Inner Temple, Ian is also responsible for maintaining the fabric of Temple Church on behalf of both Inns.
Writing this article in the midst of the Covid-19 pandemic, it is difficult to see what the future will look like as we emerge from the crisis. We have all been forced, like it or not, to rely on technology to stay in touch, with videoconferencing for meetings now becoming the norm. Financial concerns have caused chambers, like all other businesses, to evaluate the use of their accommodation in an effort to reduce unnecessary outlay. These two things alone mean that working practices will change and the need for more flexible working areas, not necessarily within chambers, will increase.
The Inn's project to form a new common room in the Ashley Building includes a floor designed to provide flexible work areas to cater for the expected increase in demand for these facilities, as chambers adapt to new working practices. Unfortunately the pandemic delayed the start of these works but I am pleased to report that work has now commenced.
On the upper level, new French windows will be installed to provide views of the Garden and access onto a terrace area with seating for use in the summer. An existing door will be modified and brought back into use to provide step free access into the new space from Middle Temple Lane. Internally, a combined bar and café area will be provided, together with a mixture of comfortable seating for general relaxation formed around a new central staircase giving access to the lower level.
The lower level will provide a mixture of individual workstations, quiet booths and a meeting room, with the ability to hire the latter on an hourly basis. Robust Wi-Fi coverage will be available across both floors.
Throughout the design process we have been keen to ensure that the new common room provides smart modern facilities in a warm and welcoming atmosphere that can be used and enjoyed by all members of the Inn.
As part of these works, we will also be modifying the main entrance to the Ashley Building to improve circulation around the welcome desk area. This will include the provision of additional WC facilities and improved access to the new common room areas from the lower level of the main staircase.
The works programme is due to take several months but we hope that it will be completed in time for the summer term of 2021.