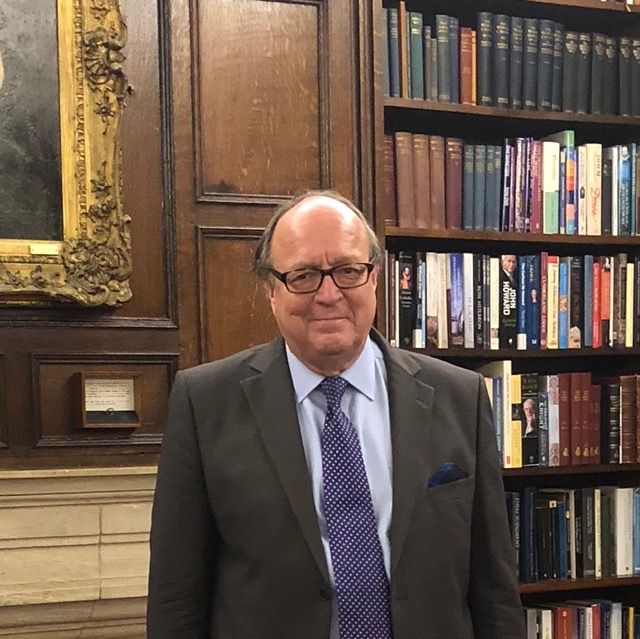 David Howard Evans QC died on Saturday
9 November 2019 after an incredibly brave fight against cancer. He was 75. David was Called to the Bar in 1972, took Silk in 1991, and was made a Bencher in 2004. He came to the Bar with three degrees and a career at the Treasury under his belt.
Was was born in Rugby on Thursday 27 July 1944, just weeks after D-Day. On leaving school he went to the London School of Economics (LSE), graduating with a BSc in Economics, followed by a Masters specialising
in Banking. From LSE he joined the Treasury as an Assistant Economic Adviser, becoming a speech writer for George Brown at the Department for Economic Affairs
in the Harold Wilson government. This was a period of economic turmoil, culminating in the great devaluation of 1967. In 1968 David changed course. He left The Treasury and went to Oxford to read law at Wadham College, completing his degree in two years. When at Oxford he met his future wife Anne, marrying in 1973. They were a devoted couple. She survives him together with their two married sons, Oliver and Edward, and five grandchildren.
After pupillage with Master Jeremy Connor, David became a tenant at the chambers of William Howard QC at 3 King's Bench Walk, which merged with the chambers of Master Dan Hollis in 1982 at Queen Elizabeth Building (QEB), subsequently known as 'Hollis Whiteman Chambers' when joined by Peter Whiteman QC. David practised at QEB until 2010 when he joined 33 Chancery Lane, the chambers of Andrew Mitchell QC.
David thrived at the Bar. He was a born advocate with a commanding presence, and a fine criminal lawyer. He both prosecuted and defended. Before taking Silk, he was appointed by the Attorney General to the list of Supplementary Treasury Counsel and prosecuted 'heavy' cases at the Old Bailey. On taking Silk, he still prosecuted for a while but then developed a busy leading defence practice, specialising in complex frauds. He was instructed in many 'high profile' fraud cases, too numerous to mention, but perhaps the best known of which was the 'Blue Arrow' case, instructed by UBS. His ability to understand, and be prepared to challenge complex financial detail, stood him in good stead.
He had an amazing grasp and sense of which parts of the evidence really mattered. He used his powers of advocacy to maximum effect, with great skill, but never at unnecessary length. On the contrary, his advocacy was concise and to the point, leaving no one in doubt that he knew exactly where he was going with his questions.
He was a formidable cross examiner, and never feared taking witnesses apart, even 'expert' witnesses, when instructed that they were in error. He also had an instinctive feel for what would appeal to the jury, something that many clever lawyers never grasp. In truth, David was in his element at the Bar. A fine speech maker, always aimed at the jury, he was never pompous and never gave any impression of superiority. When he sat down his client felt that no one could have done better.
To those of us privileged to have worked with him in numerous cases, he will perhaps be best remembered as being hysterically funny. He was a gifted mimic with the ability to see the funny side of things. When away from London conducting trials away from home, he was the life and soul of the party, but always looked forward to returning home to his beloved wife Anne and sons, who he adored.
In his final year in practice, in 2013, he was engaged in a long fraud trial in Gibraltar when he was suddenly taken ill and had to return to London for major emergency surgery. Prior to that tragic event, he had, in 40 years of practice, never missed a day in court through ill health.
Compelled through ill health to retire, and suffering from incurable cancer, he was as brave and uncomplaining as anyone could imagine. Supported by his loving family, he continued to travel when he could, especially to visit his sons who were, by then, living in the USA and Israel. His was a rare breed. It was a privilege to know him and work with him. He is, and will be, sorely missed.